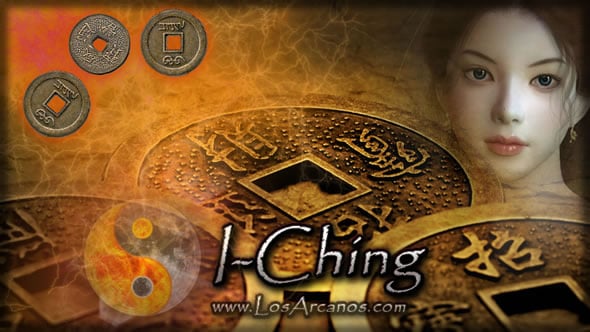 I-CHING Hexagram #64
"Before Completion"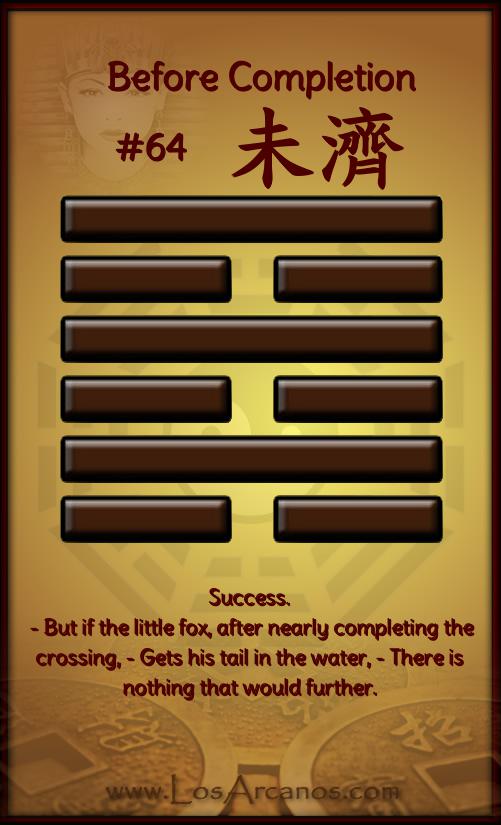 Li The seesawing, Flame. K'an The Abyss, Water. This hexagram shows a period of transition from mess to order, which still hasn't been reached. The change is prepared, but things still are not in its place. This hexagram presents a certain parallelism with spring, which leads to fruitful summer, before autumn.
It shows the man that the lack of precaution, just before getting to the end, can ruins everything that has been reached. With a detailed activity until the end, the man can reach his goals.
To get started
We are going through a period in which we have put almost all the elements in its place. We tell ourselves, "They will adapt themselves". Big mistake! The last movement is missing and this one depends on us. We will only reach the end being extremely cautious and not quitting the activity until the end.
To end
We will enter a stage in which everything will seem messy and chaotic. People and things won't be, of course, in their place, but the order is already designed. Everyone tend to occupy their place. It is a matter of caution and on the way, things will turn out well. This is the way we will reach success.
sentence
Success. - But if the little fox, after nearly completing the crossing, - Gets his tail in the water, - There is nothing that would further.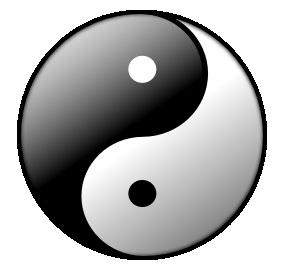 tonalityThrow the coins (i-ching)
HEXAGRAMS
Other free psychic readings
Celtic Cross Tarot
The Celtic Cross Tarot reading is probably the oldest and most popular pattern for tarot reading. It has survived so long, because the layout of the cards is simple but powerful. A strong energy has built up around ...
Hidden Truth Tarot
We all have or have had inside us unresolved feelings even though sometimes we are not aware of them. Inconveniences, difficulties and complications ...
Learn Tarot
We propose a fun game for you to learn an interpreter each of the tarot cards, it is very simple and entertaining.
Moon Sign
The Moon represents human psyche. The emotional body of man. It's indicative of a person`s emotions and feelings. It gives an intuitional nature, taste, youth, love of poetry, music, attractive looks and sensuality.