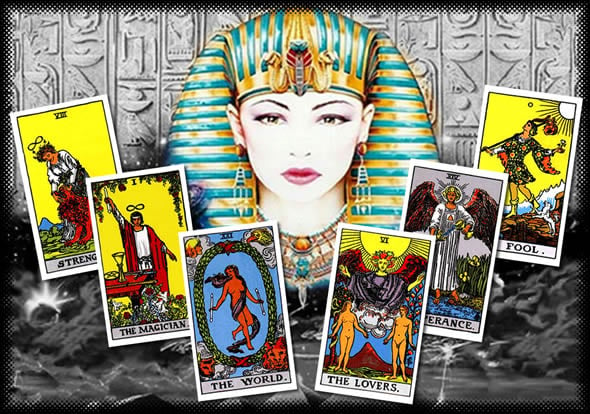 How to Read Tarot Cards
About the Tarot card meanings
The cards give you images and symbols to focus your vague intentions and transform them into action. Your will is the magic. In other words, you are the magic. If you can create something in your heart and then act on it to make it happen, that is magic. Very simple, very straightforward—no witches, no spells, and no broomsticks.
Let these Tarot card meanings be your guide, not your gospel. There are no 'right' or 'wrong' meanings of the Tarot cards. Sure, there are traditional interpretations of what the Tarot cards mean, but I encourage you to trust your intuition and go with the meanings that feel right for you.
Tarot is all about your intuition. It's the inner voice of your higher self, and Tarot cards can help you hear your inner voice and embrace it`s message. Having these Tarot card meanings and interpretations at your fingertips
The deck of cards known as the tarot is divided into two parts: the Major Arcana and the Minor Arcana. The Major Arcana consists of 22 cards, each separately titled. The Minor Arcana is a combination of four suits; each suit is comprised of cards numbered from one to ten, plus court cards of Page, Knight, Queen and King. The four suits of the Minor Arcana are most commonly known as Cups, Pentacles, Wands and Swords. Each suit of the Minor Arcana has a meaning. Traditionally the swords indicate ill fortune or difficulties, the pentacles indicate financial and material success, the cups indicate good fortune and love and the wands indicate enterprise and knowledge
Click any Tarot Card below to learn its meaning using the Rider Waite deck!
Mayor Arcana
Tarot de Los Arcanos
Tarot of Marseilles
Tarot Rider
Witches Tarot
A Heavenly Host Tarot
Triple Goddess Tarot
Christmas Tarot
Tarot Steampunk
Disney Villains Tarot Deck
The Star Tarot Deck
The Modern Witch Tarot
Arcane Limbus Deck
The Book of Shadows Tarot
Angel Deck
Fin de Siecle Kipper
Tarot Art Nouveau
Tarot of the Hidden Forces
Celestial Tarot
Grand Luxe
True Black
Titanic Tarot Cards
Celtic Dragon
Tarot of the Sacred Circle
Tarot Connolly
The Light Seer's Tarot
Tarot Osho Zen
Egyptian Tarot
Tarot Cosmic
Goddesses of the New Light
Tarot Fenestra
Gilded Tarot
Tarot Moon Garden
Ibis Tarot
Revelations Tarot
Angelic Tarot
Tarot of Dreams
Angel Voices Oracle
Sun and Moon
The Muse Tarot: A 78-Card Deck & Guidebook
Other free psychic readings
Tarot Card Meanings
earn the basic meanings of Tarot reading through explanations of the Major Arcane, Minor Arcane and Court cards in Thirteen`s Tarot Card Meanings.
Yes or No Tarot
Free one card Tarot reading Yes or No, Tarot reading YES or NO is a spread that answers concrete and precise questions. The YES or NO Tarot reading, can easily remove your doubts...
Crossroads Tarot Spread
The Crossroads Tarot reading is generally used when the consultation is about an issue with two different ways to select when we are really ...
Tarot in Favor and Against
Tarot reading in favor and against shows the two different ways that a given situation has and which aspects are in favor and which ones are against