The Lovers Tarot Card Meanings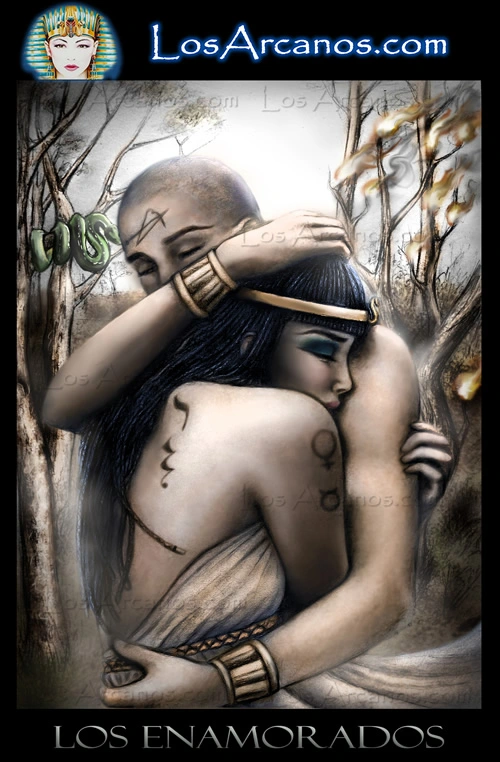 On the Valentine's card we find the whole dimension of love, attraction, desire and sexuality. It's a great card! This card induces us to contemplate the people who attract us and those who are attracted to us. This tarot arcane is the expression of two opposing beings who desire and attract each other.
This card helps us to observe our problems in the field of love and sexuality. When we stumble upon an obstacle, do we let it stop or focus on the intensity of our desire for satisfaction and overcome the obstacle with the power of our intention? Many people live unsatisfied because they ignore the sacrifices that are necessary to find love. They do not want to take too much trouble or are afraid to hurt the feelings of others. To experience what this card offers we have to be willing to pay a price.
The Lovers is a card that is easy to remember. Love and sex are fascinating subjects and, as expected, this card represents both. The need for union is powerful and, in its highest form, leads us beyond ourselves. That is why an angel is blessing the link between man and woman on this card.
In readings, card 6 often refers to a relationship based on deep love, the strongest strength of all. The relationship may not be sexual, although it is often or could be. More generally, Lovers can represent the attractive strength that unites two entities in a relationship, whether they be people, ideas, events, movements or groups.
Lovers can indicate a moral or ethical crossroads, a decision point where you must choose between the high road or the low road. This card can also represent your personal beliefs because to make such a decision, you need to know what your posture is. Following your own path can mean going against those who urge you in a direction that is wrong for you.