In LosArcanos.com we are creating a new Tarot deck, with exclusive footage created to transmit the feminine consciousness and energy of the New Age, that will soon see on our site as well try that may get printed
Tarot: Seven of Swords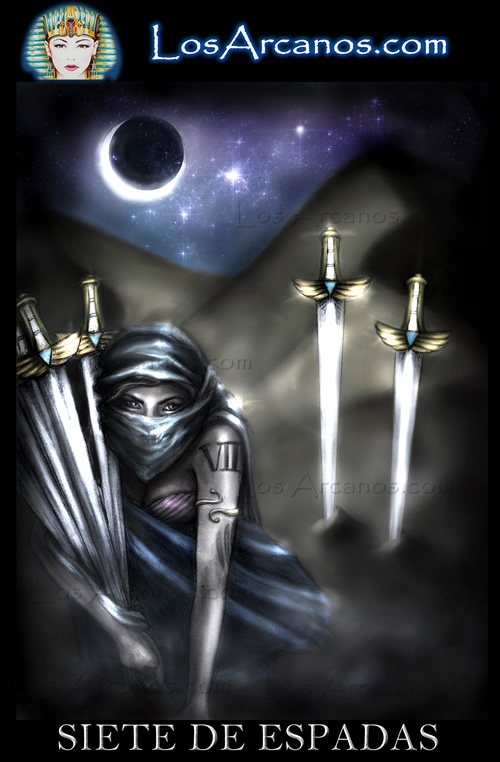 The Seven of Swords is linked to the Five of Swords, because both cards imply separation from the rest. In this card we see a woman tiptoeing away from society during the night time.
She has taken some swords and seems to be very satisfied with the theft. Gives the impression to have secret and lonely plans.
This card sometimes represents the style of the "lonely wolf" the wish to run in loneliness, free and without ties. In the movies, the hero or lonely wolf always acts on his own. Discovers, investigates and solves all the problems using only his inventiveness and resources. He believes he is successful because ignores the stupid efforts of common people. You alone, can do all.

On readings, The Seven of Swords could be a signal that your another person wants to be a lonely Wolf. You feel that you are going to be more efficient and comfortable working alone. This view is useful when you need to ignore an inefficient group or impose your independence, but it could be worrisome for you. We can't be happy and productive for so long without compromising with everyone else. If you feel compelled to act alone, make sure that this isolation really will be productive.

Sometimes, The Seven of Swords means escaping from something – compromise, responsibility, hard work, love. It is possible that we are postponing, leaving the problems aside without confronting them, because you don't want to try them. Sometimes we just have to face what we have to face. The Seven of Swords let you know when you could be doing worst things for yourself and others avoiding responsibilities.

The Seven of Swords could indicate a hidden dishonor. An option that you or another person has done that is not fair. We all take wrong decisions that we want to hide. Some of this are minor, and some are serious. Your inner voice will indicate you when this is happening. When you see the Seven of Swords, take a good look to what you are doing because hidden dishonor eats your happiness and self-esteem.

Suggestions Seven of Swords:
Do everything on my own, do not trust somebody else's work.

If I don't do it nobody does it right.

Get away, elude responsibility, avoid duties.

Take the easy way.

Hide from truth
Negative aspects Seven of Swords:
Fear to face the present. Occult dishonor, deceive and be deceived.
keywords Seven of Swords:
Loneliness, fear, shame, lie or theft, avoid responsibilities.
Our exclusive tarot of LosArcanos