In LosArcanos.com we are creating a new Tarot deck, with exclusive footage created to transmit the feminine consciousness and energy of the New Age, that will soon see on our site as well try that may get printed
Tarot: The World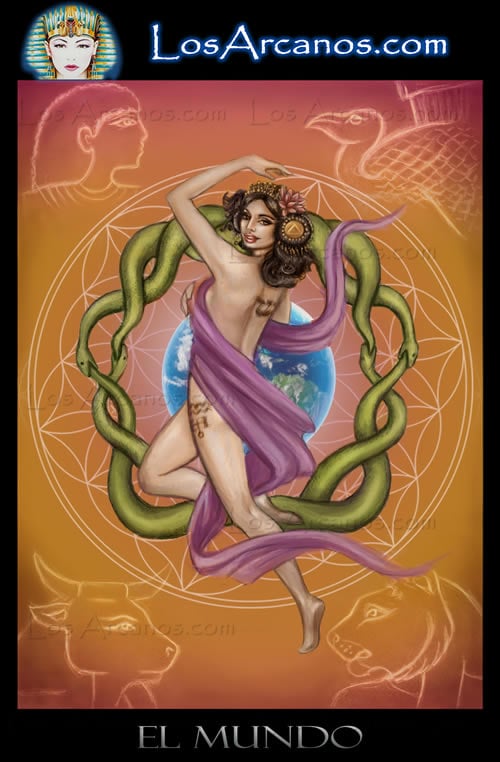 THE WORLD : Is the last card of the Major Arcane and the compliance of all of them if the lessons had been applied correctly. The world represent success through effort, not only in the material sense, but in regards to the overcoming of barriers that carried us to this point.
The world talks about commitment and how we comply : duties with oneself, with the family, with the environment, and with mankind in general. This card asks if we have complied with our commitment, and if is not so, what do we think to do about this matter.

This arcane represents spiritual elevation. Symbolizes the thought that stops from being and feeling in the only essence of the self. It's loneliness in peace, to know how to live with what is just necessary, the control of the mundane and the high feeling that doesn't ask you correspondence. It can receive damage from nobody, either benefits, all is in his hands.

The World also represents trust. Trust is the steadiest foundation of human relations; without them, nothing can be achieved. Honesty it's a valuable element. People who posses it are highly valued by everyone else. Who ever lose it, is rejected. The World shows us how we could be trust worthy.

Suggestions The World:
Be responsible to yourself, to everybody else and to the planet.
Help people who has helped you.
Don't carry unnecessary burden.
Act with confidence.
Observe what you have accomplished to till now.
Show your appreciation for your success.

Negative aspects The World:
Martyrdom, lack of trust, carries the world in his/her back, heavy weights, doesn't understand money material or money matters, can't keep his/her promises.

keywords The World:
Work, duty, sustentative, history, wise, success, mundane, trustable, pomegranates, finality, achievements, comprehension, manifests, acknowledgement, dominates the situation.


Our exclusive tarot of LosArcanos