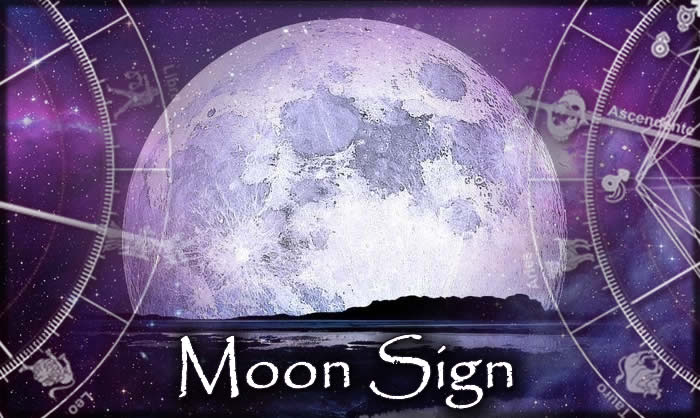 Moon Sign Calculator
Lunar Horoscope, Free Online Astrology
Find moon sign by date of birth
"The moon is a loyal companion. It never leaves. It's always there, watching, steadfast, knowing us in our light and dark moments, changing forever just as we do. Every day it's a different version of itself. Sometimes weak and wan, sometimes strong and full of light. The moon understands what it means to be human.
Uncertain. Alone. Cratered by imperfections."
The sign occupied by the Moon at your time of birth is an indicator of your emotional and physical nature. It describes your unconscious, instinctive reactions, what is innate, perhaps inherited from your mother or reflected in the feminine dimension of your life. It tells us what kind of experience you need in order to feel emotionally satisfied..
Moon symbolises desire to delve into the unconscious, turn to the past and indulge in feelings. From the position of the Moon in the zodiac we can learn how a person behaves when he or she becomes only an instinctive creature. It shows us the instinctive, irrational nature of people. The position of the Moon also shows us how a child sees his mother and what energy from her influenced him the most when he was a child.
The Moon takes a little over two days to move through a Zodiac sign, so if you don't know the exact time of birth, calculate for the birthdate at 0:0am and 11.59pm of the day: if the moon changes sign during the day, see which sign seems to fit you better.
Enter the date of your birth, and the time as accurately as you know it.
Other free psychic readings
Love Tarot
Love Tarot reading will help you find true love. You will be able to analyze in a better way any problems you face with your partner.
Weekly Horoscopes
Astrological true horoscope updated weekly. Get free advices and predictions based on your sign and the position of the stars.
Tarot of the Moon
If the Moon has a lot of influence over you, this is the best moment to know the mysteries of your personal interiority and help you take the right decisions by Tarot reading of the moon
Moon`s Nodes
The Moon`s Nodes illustrate those points on the ground, where the orbit of the Moon around the Earth crosses that of the Earth around the Sun.