Aquarius
Temperance
Week that will tend to divide into two parts, the first half and part of the second could be heavy and overwhelming in some aspects of life. Already the last two days 21 and 22, which in fact will be the best of it with the Moon positioned in your sign in its Waning phase, you will be able to recover much of that energy invested in the whole weekly process. The Arcanum that will rule you during these days will be Temperance, the number will be 14 and the weekly color will be Orange.
Career Horoscope
The Hierophant (i)
Within the labor field, the situation could have a turn, causing them to live moments uncomfortable enough with the work environment. They would be circumstantial moments, although they would overwhelm you enough not to want to pay more attention, and be careful, because in this opportunity you could put the work itself into play. Be patient that before the end of the week the complex situation would be resolved. The Arcanum that will rule you during this week will be The High Priest in his inverted position.
Love Horoscope
The Devil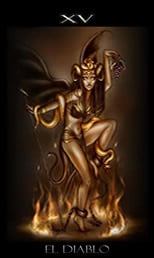 On the sentimental level, good fortune will continue for the Aquarians, although even more so for those who do not have the fortune of having a stable partner. It will be the right time to pay more attention to the near and not so close environment, since the most interesting person could be more within your reach and with greater interest towards you than you think. The letter that will govern you during these next days will be El Diablo.
Health Horoscope
The Chariot
With regard to health in general, you could have some ups and downs especially with regard to the respiratory tract, voice (vocal cords), etc. This type of inconvenience, could be caused mainly by the climatic changes, as well as by an excess of stress, which you find very difficult to handle. The card that will govern you during these next days will be El Carro.