In LosArcanos.com we are creating a new Tarot deck, with exclusive footage created to transmit the feminine consciousness and energy of the New Age, that will soon see on our site as well try that may get printed
Tarot: The Hanged Man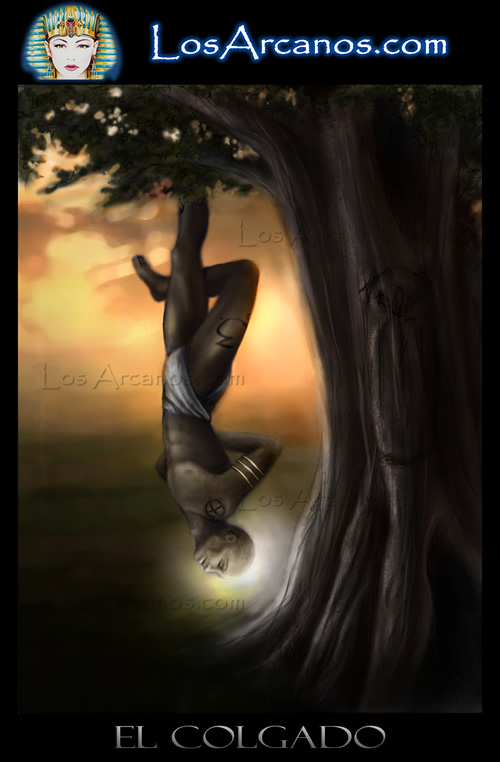 THE HANGED MAN : The Hanged Man is one of the most mysterious tarot cards. It is simple, but at the same time is complex. Attracts but at the same time disturbs the mind. He contradicts himself in many ways. The Hanged Man is destabilizing, because he symbolizes the action in our lives. This card is a paradox, something that looks contradictory but true. The Hanged Man introduces certain truths, but they are hidden in their opposites, they don't let you see at plain sight what he wants to show you. The main lesson of The Hanged Man is that we "control", by letting go, that " we win" by surrender.

The Hanged Man invites to observe our complexity , the inhibitions that keep us frightened in a state of servitude. We don't have to play the victim. He just stays suspended, doing nothing and therefore without production. Represents passivity. In a way, is like a weather vine. It balances continually between comments and opinions according to where the wind blows from.

The Hang Man is here to ask us if we are willing to sacrifice ourselves in order to progress in life.

Suggestions The Hanged Man:
Stop doing things that could harm you.

Don't let public opinion affect you.
Don't let friends or family tell you what you must think or say.
Stop playing the martyr.
Look for truth instead of listening to gossip.

Negative aspects The Hanged Man:
Influenced, prone, malleable, resigned, too accessible, unrealistic/idealist, unpractical, , hidden feelings, absorbed in his/her problems, careless, deceiving, to look at the world upside down, manipulated/rejected, unnecessary abuse, stagnant situation, confused, victim complex, listen to cheap gossip, avoider, fantasizing.

keywords The Hanged Man:
Obedient, suspended activity, delayed time, visions, mysticism, vapor, mist, waiting, surmounting, uninterested, haze, calm, confusion, transition, delay, sacrifices.

Our exclusive tarot of LosArcanos