In LosArcanos.com we are creating a new Tarot deck, with exclusive footage created to transmit the feminine consciousness and energy of the New Age, that will soon see on our site as well try that may get printed
Tarot: Judgement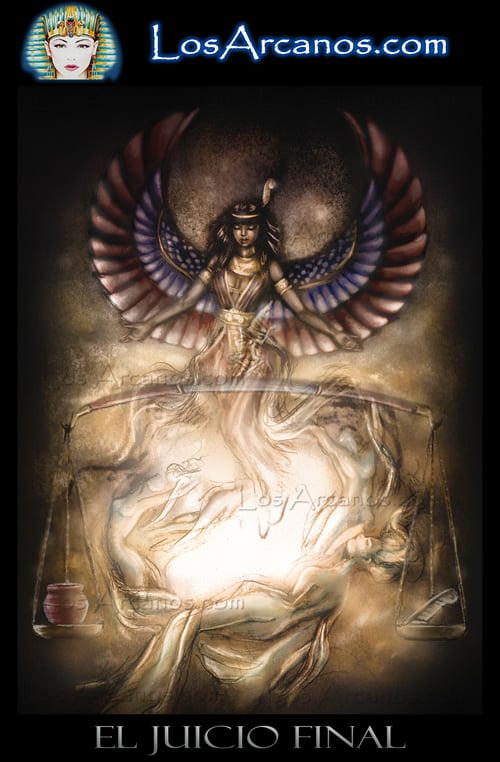 THE JUDGEMENT: This arcane symbolizes liberation, the end to a period of suffering, you have concluded a stage of your life and it's time to evaluate not only the good or bad actions, but all of that the process has been in itself.

This card means a project that reemerges, something you thought it was lost and now you can pick up and finish. It also represents a sense of relief when you finish a complicated stage that you will end successfully at last. Focus on solving your problems, it's time to surface matters you thought were lost so you can feel released.

Even so, remember that success it's not the more valuable teaching you can get from obstacles that life sets in front of you, all personal richness that you get along the path will be useful to face very new vital stage. The appearance of this arcane precede the arriving of a change, you will be able to win the battle to what is causing you suffering, or resume dormant projects. When you start to walk along this path, you will soon realize what the solution is, if you choose to go ahead, this experience will enriched you, so, go ahead and keep on going even though sometimes things get tough, at the end you will be satisfied.

Suggestions Judgement:
Be more adaptable.
Don't judge yourself or everyone else.
Explore yourself.
Change instead of get use to it.

Negative aspects Judgement:
Manipulator, can't stop, imposes himself /herself, guilt/shame, phobias, obsessions, fanatic, elimination, too much pressure.

keywords Judgement:
Change, decisive, overcomes obstacles, immigration, resurrection, ambitions/cataclysm, assimilation, intense, self discovery, wake up, detour, alteration, analysis, reform, revolt, motivation, pressure, transformer.

Our exclusive tarot of LosArcanos