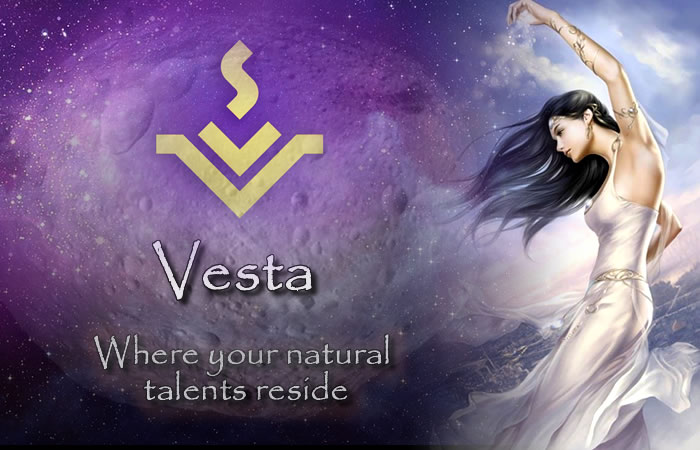 Vesta in Astrology
WHERE YOUR NATURAL TALENTS RESIDE
The place where Vesta is on your astrological chart simbolizes the part of your life in which you must pour your inner fire. That holy area to you, and there is where your natural talents reside. Both the sign and the house in which it is located are essential in understanding its meaning.
The exemplary model which Vesta represents in astrology, is focusing the energies in everything which we are passionate for, in the Interpretation of the birth chart it defines a safe spot, a place we consider our home and where we feel safe. It is also the medicine which helps healing the injuries and traumas we have left from past stages and which prevent us from enjoying our experiences to the full.
Asteroid Vesta defines where and how you see your mission and truth in your life and in the wold. It is where you are the Guardian of the Sacred Flame and where you trust your inner sense in the Goddess and in self-sufficiency.
The energy of Vesta in astrology helps you concentrate on your goals and to dedicate yourself fully to achieving them. Vesta is also related with the purpose and the flame in your soul. It tells you why you are ready to make sacrifices and to achieve what must be done, whatever happens.
Enter the data in the following form to calculate your Vesta
Chiron in your Birth Chart
Chiron is the wounded healer, a comet which shows where you will help others to overcome something which you fought in life.
Ceres in your Birth Chart
Ceres is Mother Earth. She governs health, nutrition, agriculture, a universal food that permeates everything
Palas in your Birth Chart
In the natal chart, "The Warrior Queen" speaks of the ability to solve problems, the ability to take advantage of resources
Other free psychic readings
Rising Sign
The Ascendant sign expresses personality. It is an important feature because it shows the behavior that is learned, as well as the way we are perceived by others
Weekly Horoscopes
Astrological true horoscope updated weekly. Get free advices and predictions based on your sign and the position of the stars.
Iching
The I-Ching, or Book of Changes, is the worlds oldest book and earliest known intuitive decision-making system. Based on the binary logic of yin/yang, it is used to derive personal strategy and insights based on natural wisdom -- as pertaining to hum