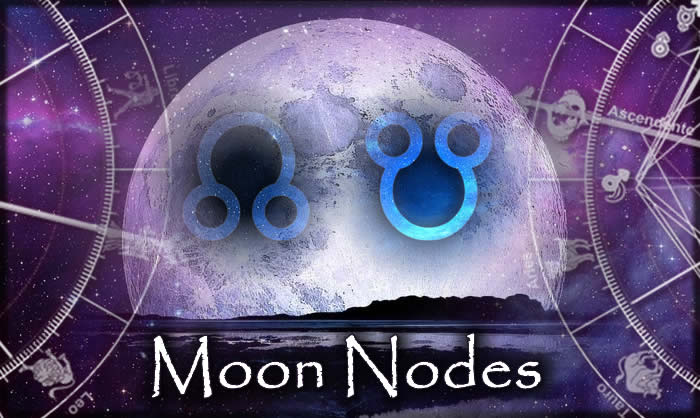 Moon`s Nodes: The influence of Karma
Lunar Horoscope, Free Online Astrology
North Nodes & South Nodes: The Astrology of Your Life Purpose
The moon does not fight. It attacks no one. It does not worry. It does not try to crush others. It keeps to its course, but by its very nature, it gently influences. What other body could pull an entire ocean from shore to shore? The moon is faithful to its nature and its power is never diminished
A lunar node is either of the two orbital nodes of the Moon, that is, the two points at which the orbit of the Moon intersects the ecliptic. The ascending (or north) node is where the Moon moves into the northern ecliptic hemisphere, while the descending (or south) node is where the Moon enters the southern ecliptic hemisphere.
The Nodes of the Moon suggest personal karmic imbalance. Thus, consciously working on these "life lessons" can bring us to increased happiness and fulfillment. If we over-emphasize and fall back on the qualities of our South Node, at the expense of developing our North Node, we may have a difficult time feeling personally successful.
The ascending node is also called north Moon Node, or Dragon's Head; while the descending node is called south Moon node or Dragon's Tail. According to Indian mythology, they are named Rahu and Ketu.
The meaning of the Moon axis is associated with karmic astrology. The starting point is that we are not on the earth for the first time, but we have gathered experiences from past lives. The principle of reincarnation is illustrated by the Moon axis, due to the fact that the descending node refers to our past, while the ascending node shows our future, as well as the most important message we should learn in our current life.
All our past experiences remain in the south node, which is commonly associated with issues that are familiar to us. It represents habits that we do not want to quit because of easiness, that is, the south node symbolizes the way of less resistance. However, the main goal is to overcome ourselves and acquire new experiences, which can turn out to be completely opposed to the previous ones, just the way it is represented by the sign and the house containing the north Moon node.
Enter the date of your birth, and the time as accurately as you know it.
Other free psychic readings
Moon`s Nodes
The Moon`s Nodes illustrate those points on the ground, where the orbit of the Moon around the Earth crosses that of the Earth around the Sun.
Ask the Tarot
Think and write what concerns you. Ask open-ended questions. The Tarot will give you a response so that we can make appropriate decisions and solve problems
Part of Fortune
In astrology, the Part of Fortune, sometimes called Fortuna, is the most popular Arabic Part. Arabic Parts are sensitive points in a chart. The Part of Fortune represents worldly success, and is associated with the physical body and health as well.