Cancer
Strength
The stability of the week will be from the beginning of it, since the best days will be 22 and 23 respectively, with the Moon positioned in the sign of Pisces in its waning phase. This lunation will be great to help remove everything in life that causes you discomfort, addiction, or directly causes mental fatigue. The Arcane that will rule you during this week will be La Fuerza, the ruling number will be 11, and the weekly color will be El Naranja.
Career Horoscope
The Lovers
In the workplace, those born under this sign will have the opportunity to improve in some aspects that may be found somewhat incorrect. However, the possibilities will be given as the week goes by and the Moon phase has its corresponding changes from Waxing to Waning. The Arcane that will rule you during these days will be The Lovers.
Love Horoscope
The Moon (i)
Within the sentimental field, you should have more patience than previous days, since you could feel more sensitive some comments that could be made without malicious intent, by those who love you well. Limit situations will generate discomfort and discomfort with any type of attitude other than what you consider relevant. The letter that will rule you in the field of love will be The Moon in its inverted position.
Health Horoscope
The Devil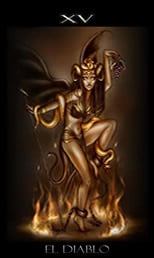 The situation at the health level will be presented in a particular enough way, since some moments could be somewhat confusing to resolve, and as long as you pay attention to those who have the wisdom to advise you and in such a case to medicate . Beware of accidents that are at home or on the street itself. Take care of yourselves. The card that will rule you during this week will be El Diablo.