Libra
The Hanged Man
While this week could be somewhat altered in the field of the energies that surround you, it will also have a tendency to improve with the passing of the days. However, you should pay close attention when making decisions, on all those related to the economic sector, purchases, sales, etc. The best day will be 25, with the Moon positioned in the sign of Aquarius in its Growing phase. The Arcane that will rule you during this week will be The Hanged One, the number will be 12, and the weekly color will be The ? mbar.
Career Horoscope
The Lovers
In the workplace you will have the opportunity to get a new option related to your needs, as long as you analyze each of the pros and cons. The closest people could help you, even more if your work is related to the purchase and sale of products, regardless of whether they are tangible or intangible. The Arcane who will rule you this week in this field will be Los Enamorados.
Love Horoscope
The Hierophant
In the sentimental field, you will have the opportunity to meet new people to start friendships that will take you to a stage of pure and genuine love. On the other hand, someone from the past would try to approach you trying to find the possibility of having a new relationship. Care and attention to the true intentions of these people. The Arcanum who will rule you in the sentimental plane during this week will be the High Priest in his inverted position.
Health Horoscope
The Devil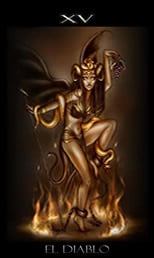 Health in all its aspects, physical and emotional, will have the opportunity to improve remarkably with patience and much care in relation to everything that is cellular regeneration. The ideal attention would be with the professionals of your utmost confidence. Beware of medication excesses, whether natural. The Arcanum that will rule you during this week will be The Devil.