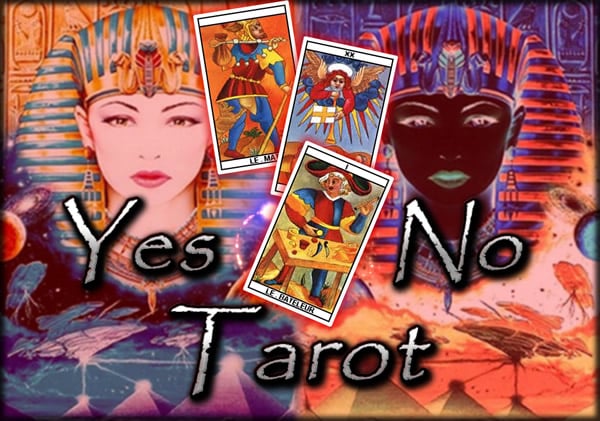 Yes or No TAROT
Tarot reading, a free answer to your question
Tarot is always whispering to you. Tarot weaves truth, stories, secrets, and tales. All you need to do is slow down and listen.
The Yes/No Tarot is the perfect tarot reading for those who are seeking for a simple yet accurate answer to a yes-no question. If you have any questions to ask in mind that can be answered with a "yes or no" then this is the perfect tarot spread for you to get started. You can use this tarot card reading for free and in unlimited times you may desire but please ask only Yes / No questions for you to get the best result.
I ask a specific questions and draw a single tarot card. The only thing I then do is determine the yes or no answer based on my own positive or negative association with the card.
This spread answers concrete and precise questions with Yes or No.
Need an answer and advice on something ASAP? This popular reading gives you a simple yes or no and straightforward advice. Focus on your question and select your card now!
Please enter the following information to enter the Tarot
tarot card reading yes or no accurate
The question you design for this type of reading must be answered with a "yes" or a "no.". Be focused. Narrow the question to a single subject so that the information you receive will feel relevant. This question
Maintain neutrality. If you frame the question in an overly negative or positive way, you risk being biased in the interpretation. Removing the emotional judgment from the phrasing allows you to receive more relevant information.
Other free psychic readings
Crossroads Tarot Spread
The Crossroads Tarot reading is generally used when the consultation is about an issue with two different ways to select when we are really ...
Love Tarot
Love Tarot reading will help you find true love. You will be able to analyze in a better way any problems you face with your partner.
Daily Tarot Horoscope
The Today`s Tarot will give you an idea of what your day might look like today. If you don`t like what it has to say, maybe changing your mindset to something more positive or ...
Part of Fortune
In astrology, the Part of Fortune, sometimes called Fortuna, is the most popular Arabic Part. Arabic Parts are sensitive points in a chart. The Part of Fortune represents worldly success, and is associated with the physical body and health as well.