Three of Swords Tarot Card Meanings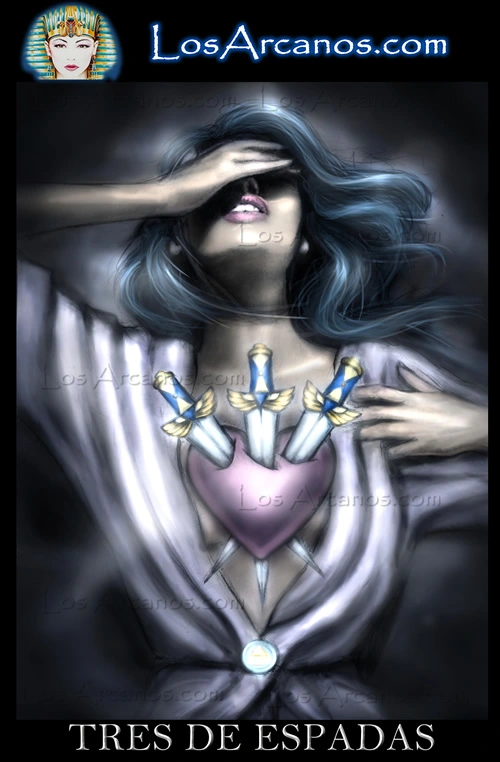 You open the door to find your partner in someone else's arms. You hear your best friend laughing at you behind your back. You find that your business partner has been cheating on you for years. Suddenly, your world is upside down. You are stunned, unbelieving and finally heartbroken.
The picture in the 3 of Swords clearly describes this sudden pain. You literally feel like someone has taken a sharp object and pierced it in your heart. Even something as small as a scathing comment can feel this way. Notice how this contains only one heart and three swords. When your heart breaks, you feel that that's all you are: an open wound.
In readings, the Three of Swords often represent the small, nasty curved balls that life can throw at times. Treason, abandonment, rejection, separation, a reversal of fortune. These wounds are painful because they hit you when you least expect them. If you have stolen this card, you may know what you mean, but if not, the Three of Swords is a valuable warning. There's probably something wrong with your life that you don't know or don't want to recognize. Curved balls hit us when we look the other way. Take a look at your situation carefully. Talk to people in your life. Don't take anything for granted. Listen to your inner voice; it will help you locate the problem.
It's also possible that you're contemplating hurting someone else. With this card I think it is important to remember that each of us is capable of being cruel. We're all human, and we all make mistakes, sometimes serious. In the end, all we can do is trust in the goodness of life and try to fulfill that ideal. When you slide, forgive yourself and try to forgive others, but, better yet, avoid problems before they arrive.
The choice of deception or infidelity that comes to light is usually the most common on this card, the context is obviously very important. In the face of this pain we must not try to flee. The only possible solution is to internalize it and to try to heal the wounds through what remains of love within us. You have to go through a painful period, and get out of it strengthened.
Suggestions Tarot Three of Swords
Suffering emotional pain
Hurting inside, so your feelings have been hurt.
Hurt someone's feelings
Feel isolated from those you love
Be abandoned at the time of need
Discovering a painful truth
To be stabbed in the back
Negative aspects Tarot Three of Swords
He hides to cry, pain in the heart, grieving.
keywords Tarot Three of Swords
Personal, pain, deception, infidelity, sadness