The Devil References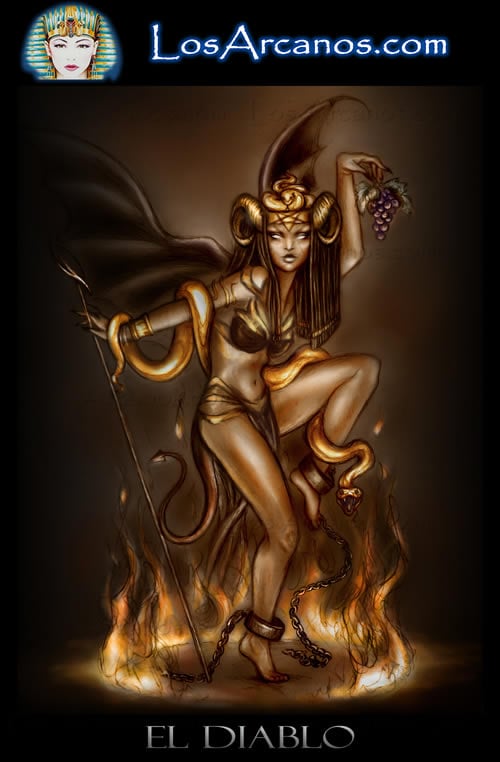 0. "SEX, DRUGS AND ROCK N'ROLL"
1. MAGNETISM
2. PURE ENERGY
3. CONFUSING ACTION
4. PASSION OR NERVOUSNESS
5. MATERIAL CAPTIVITY
6. SEXUALITY
Key "TEMPTATION"
DIVINATORY MEANING
The card takes us back to the meaning of "The Enemy". Everything that works against us and that we harms and hurts. Our fears and fears, bad luck and also other people who attack against our happiness. But we must not forget about ourselves, that sometimes we are our worst enemy. The Devil is a card of fears, of fears that paralyze us. It can mean any form of slavery or submission, for example a figure of a very authoritarian boss who makes our lives impossible or an abusive parent or partner who controls every aspect of our lives. It can refer to any addiction, to alcohol and drugs for example. It often has sexual references: all kinds of sexual perversions, or relationships that lack any emotional sense, only the carnal is important. Everything related to "the dark" is symbolized by this card. A person who conjures against Us through spells could be warned by the Devil
Advice
Don't underestimate the dangers and control the pitfalls; don't give in to flattery and don't let yourself drag by the others. Places: Operating rooms, foundries, slaughterhouses, arsenals. Trenches, fields of battle.
Relations
Number 60, Runa Nied (the necessary evil), Hebrew letter Samech (circle or well), astrological element MARTE, dark red color.