The Moon References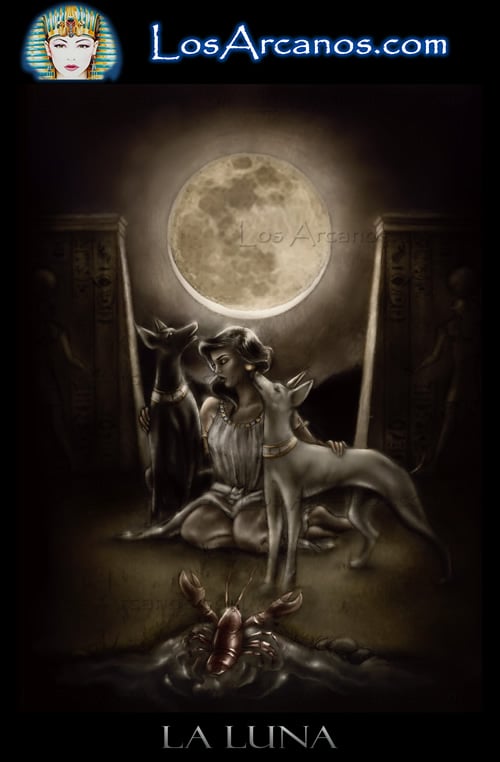 1. MAGNETISM
2. PREMONITIONS
3. RECEPTIVITY
4. IMAGINATION
5. DREAMS
6. INTUITION
Key "RECEPTION"
DIVINATORY MEANING
Enemies. The Moon is the card of the occult, the unknown and the unknown. It may in that sense reflect deception, concealments, lies, hidden enemies. But also refer to the world of the unconscious: forces psychics who escape reason and who get us out of control. Inner fears. The Moon represents our fears or false illusions: to the dark, to the night, to animals, ourselves. It's easy to lose our way in the moonlight. Make sure that the disappointments and false ideas don't guide your path. Sometimes the Moon is a sign that you are lost and wandering around without courage. You must find your firm path and clarity in your purpose. Psychism. It is a very feminine card, indicating behavior sometimes irrational, always very emotional, of women when they are under pressure. This emotionality and superior capacity can to be exploited in the world of the sciences of the soul: visions that escape reason, the psyche, the clairvoyance. Long trips. The letter may refer to a long-distance trip across the sea. The consequences in They themselves are unknown. The night. The letter refers to everything related to the night. It can mean, in that sense, to know your partner on a night out, or that it's a person who works at night. Motherhood. It is a maternity letter and can indicate pregnancies. It is very difficult to convey the true meaning of the Arcanum THE MOON. Not because it is very complicated in itself, but because the interlocutor easily refuses to accept that Your feelings have played tricks on you
Advice
Rely on intuition. Observe, listen and know how to be silent. Locations: Town Halls, public places, museums, bars, restaurants, hotels. Thermal establishments or spas. Places dark, disreputable. Rainy regions, marine locations, oceans, rivers, lakes, ponds; roads, beaches, breakwaters.
Relations
Number 90, Runa Algiz and Othel (Protection), Hebrew letter Tsade (the roof), astrological element CANCER, color WHITE.