Justice References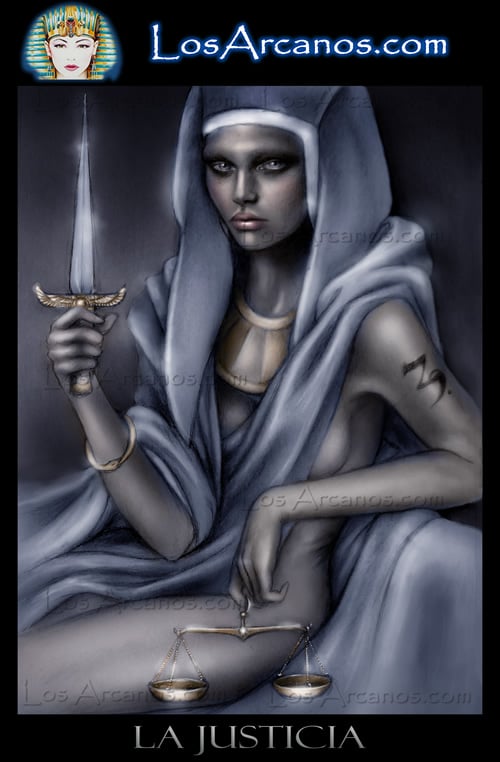 1. THE LAW AND ANY PROCEDURE
2. ORDER IN THE FACE OF CHAOS
3. JUSTICE AND TRUTH
4. REWARD
5. BALANCE AND PRUDENCE
6. LAW AND INSTITUTIONS
Key "MATERIALIZATION"
DIVINATORY MEANING
The letter of justice will appear in those cases where there are lawsuits pending resolution, issues legal and business issues that need to be resolved. Relations with lawyers, judges and police cases. Justice does not indicate that these issues will be resolved on our part, but that "justice will be done", that is, that what we will receive will be adequate and if we do not agree with this it is because we had overrated our possibilities. Another meaning is the need to eliminate imbalances in our lives and in our relationships. personal. In this sense, the letter is a call to immediate action. Perhaps the couple's relationship is too unbalanced, one of the two has to do everything while the other shows a passive attitude. Justice is also the letter of criticism of our work, especially if it is related to writing, either as a writer or simply writing texts to send to clients. It has a sign of doom, since it says: "everything will happen when the time comes".
Advice
Beware of uncontrolled passions and desires. Act according to justice and don't know oppose fate. Locations: Fields, orchards, courts, law firms, art galleries, workshops of painting.
Relations
Number 8, Runa Wunjo (Success), Hebrew letter Heth (Life Force), astrological element LIBRA, color Pink.