Combinations for The Devil and The Chariot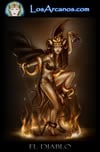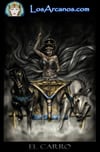 Difficult breakthrough.
Serious hazards during a trip.
Such reconciliation is not yet possible.
What Despite our love and dedication, the loved one doesn't behave as they should, and it's not worth it.
Relationship sentimental in crisis.
Announces the arrival of third parties with excessive vehemence, who interfere negatively, jeopardizing relationships of all kinds.
The duo of Arcanos warns of betrayals and conflicts, which could cause serious problems, both in your love and work environment A time of complicated relationships and embarrassing situations that do not advance, due to the interference of a third party in discord.
A new love or reconciliation is not yet going to happen.
These two letters warn us that whatever we ask, we are going to have problems, difficult situations, gossip, bad communications, in total we are going to move forward, but with slow and very difficult progress.
It also tells us about serious dangers on a trip.
In love, if we have a partner, it warns us that our romantic relationship is in crisis, and we will have to make decisions.
If we don't have a partner, what comes to us is a person with whom we will have a lot of physical attraction but who doesn't suit us.
He can even be a bad person.
At work, if we have a job, it can mean two things, that we have problems, or that, if we are waiting for a salary increase, it will come.
If we don't have a job, nothing comes to us quickly and whatever comes, we're not going to like anything and we're not going to take it.
Personally, this is a person who has bad milk, who has evil inside their body.
In the economy, it tells us that money is coming to us, probably not legal money.
.

The Devil Reversal and The Chariot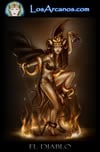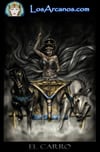 Indicates that the boy is insecure or has a serious problem.
The Devil and The Chariot Reversal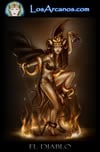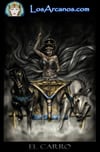 We have to change our attitude. It doesn't give dates (for that you need minor arcana) but it indicates that it will be soon.
The Devil and The Chariot Reversal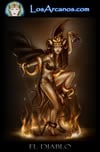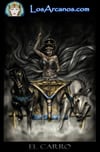 We must regain control of our lives.