Tarot Moon Garden
The Moon Garden Tarot is a feminine, magical and romantic Tarot with a symbolic and mystical expression that reflects the elements of moon magic.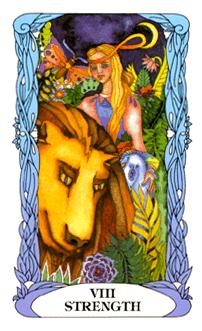 arrow_back_iosPrevious
arrow_forward_iosNext
[XI] Lust/Strength Sublimation or regulation of the passions and lower instincts. Power, energy, great love. Spirit ruling over matter. Action, courage. Success. Powerful will and great physical strength. The inner strength to tame the lust.

Inverted:

Discord, ruin, stubbornness, abuse of power. Weakness.
keyboard_backspaceView All Tarot Decks
Click on each card to see it in detail
keyboard_backspaceView All Tarot Decks
arrow_forwardLearn Tarot
Learn the meaning of Tarot cards with this fun game, guess based on its description to which Arcanum corresponds. Read the description of the Arcanum of the Tarot that we show you below and based on what it suggests, its meaning, select from the four cards that we show you, which is the correct one.
You May Also Like
Ask the Tarot
Think and write what concerns you. Ask open-ended questions. The Tarot will give you a response so that we can make appropriate decisions and solve problems
Astrology Chart
Astrology studies the position and movement of stars. Thanks to their understanding and surveillance, we can establish a relationship between what happens in the sky
Tarot in Favor and Against
Tarot reading in favor and against shows the two different ways that a given situation has and which aspects are in favor and which ones are against
Learn Tarot
Select which Tarot card the following description corresponds to