Tarot Moon Garden
The Moon Garden Tarot is a feminine, magical and romantic Tarot with a symbolic and mystical expression that reflects the elements of moon magic.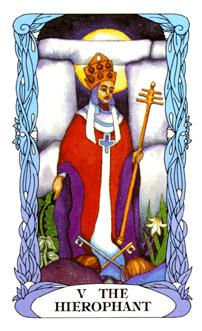 arrow_back_iosPrevious
arrow_forward_iosNext
[V] The Hierophant Wisdom, endurance, persistence, patience, help from superiors, good advice, a good teacher, organization, peace, goodness of heart. The card that represents you, in the form of your own, truest voice, your own inner-self. Dogma. Can be lawyers.

Inverted:

Tendency to over criticize or being unduly concerned with the morals of others. Incapable of dealing efficiently with practical matters, especially finances. Unconventionality, illogical, superstitious, unable to behave coherently.
keyboard_backspaceView All Tarot Decks
Click on each card to see it in detail
keyboard_backspaceView All Tarot Decks
arrow_forwardLearn Tarot
Learn the meaning of Tarot cards with this fun game, guess based on its description to which Arcanum corresponds. Read the description of the Arcanum of the Tarot that we show you below and based on what it suggests, its meaning, select from the four cards that we show you, which is the correct one.
You May Also Like
Daily Tarot Horoscope
The Today`s Tarot will give you an idea of what your day might look like today. If you don`t like what it has to say, maybe changing your mindset to something more positive or ...
Tarot in Favor and Against
Tarot reading in favor and against shows the two different ways that a given situation has and which aspects are in favor and which ones are against
Learn Tarot
Select which Tarot card the following description corresponds to
Tarot Card Meanings
earn the basic meanings of Tarot reading through explanations of the Major Arcane, Minor Arcane and Court cards in Thirteen`s Tarot Card Meanings.