Tarot Moon Garden
The Moon Garden Tarot is a feminine, magical and romantic Tarot with a symbolic and mystical expression that reflects the elements of moon magic.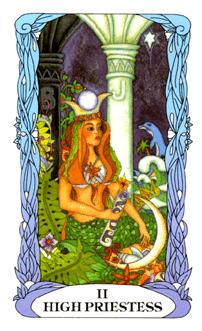 arrow_back_iosPrevious
arrow_forward_iosNext
[III] The Priestess Hidden influence. Silence, patience, equilibrium. Slow but firm. Pondered decision. Advice, tuition, possibly given by a woman. Psychic ability. The manifestation of the eternal feminine in a spiritual way

Inverted:

Deceptive, secret, or sly manner. Lazyness, intolerance. Delays. False ideas, moodiness, doubt, superficiality.
keyboard_backspaceView All Tarot Decks
Click on each card to see it in detail
keyboard_backspaceView All Tarot Decks
arrow_forwardLearn Tarot
Learn the meaning of Tarot cards with this fun game, guess based on its description to which Arcanum corresponds. Read the description of the Arcanum of the Tarot that we show you below and based on what it suggests, its meaning, select from the four cards that we show you, which is the correct one.
Other free psychic readings
Daily Tarot Horoscope
The Today`s Tarot will give you an idea of what your day might look like today. If you don`t like what it has to say, maybe changing your mindset to something more positive or ...
Tarot Past, Present and Future
The analysis of any subject, when time plays an important role, can be carried out through this specific tarot reading.
Ask the Tarot
Think and write what concerns you. Ask open-ended questions. The Tarot will give you a response so that we can make appropriate decisions and solve problems
Learn Tarot
Select which Tarot card the following description corresponds to