Celestial Tarot 9
The Celestial Tarot is from the author of the Spiral Tarot, Kay Steventon. The pretty, non-traditional images directly associate astrology, the planets, and the constellations with the 78 Tarot cards. Twenty-two majors are zodiacal constellations and ten planets (Pluto is counted as a planet) of astrology. Each minor suit is associated with an astrological element of fire, earth, air and water. The system includes Golden Dawn decanates, astrology, astronomy, myth and symbolism. Now available with a companion book as well as a standalone deck.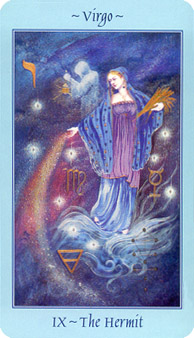 arrow_back_iosPrevious
arrow_forward_iosNext
[IX] The Hermit/The Pilgrim Prudence, wisdom, patience, silence, spiritual advance, divine inspiration, circumspection, retirement from participation in current events, solitude. Pilgrimage. Quest for wisdom. Could be a teacher. A period of spiritual and intellectual personal development.

Inverted:

Immaturity, viciousness, darkness, stubbornness, deception, betrayal, too much or insufficient prudence. Misanthrope, misogyny, celibacy, excessively shy person. Hidden enemies.
keyboard_backspaceView All Tarot Decks