Celestial Tarot 1
The Celestial Tarot is from the author of the Spiral Tarot, Kay Steventon. The pretty, non-traditional images directly associate astrology, the planets, and the constellations with the 78 Tarot cards. Twenty-two majors are zodiacal constellations and ten planets (Pluto is counted as a planet) of astrology. Each minor suit is associated with an astrological element of fire, earth, air and water. The system includes Golden Dawn decanates, astrology, astronomy, myth and symbolism. Now available with a companion book as well as a standalone deck.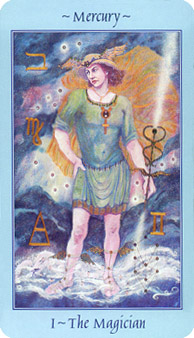 arrow_back_iosPrevious
arrow_forward_iosNext
[I] The Magus, The Alchemist, The Prestidigitator Will, creativeness, adroitness, mastery, elasticity, autonomy, eloquence, craft, cunning. May imply a new beginning. The Magus is an autonomous person that knows where he is going and how to achieve its ends.

Inverted:

Indecision, weak will, ineptitude, dilettante. Deceitfulness, trickery.
keyboard_backspaceView All Tarot Decks