Celestial Tarot 15
The Celestial Tarot is from the author of the Spiral Tarot, Kay Steventon. The pretty, non-traditional images directly associate astrology, the planets, and the constellations with the 78 Tarot cards. Twenty-two majors are zodiacal constellations and ten planets (Pluto is counted as a planet) of astrology. Each minor suit is associated with an astrological element of fire, earth, air and water. The system includes Golden Dawn decanates, astrology, astronomy, myth and symbolism. Now available with a companion book as well as a standalone deck.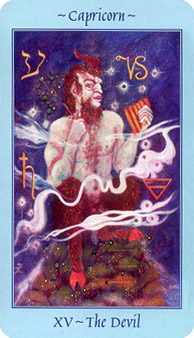 arrow_back_iosPrevious
arrow_forward_iosNext
[XV] The Devil Fate (wrong or good). Seductive power, blind impulse. Temptation, obsession. Sexual deviation. A disturbed mental state. Earthly passions are turning you inside and out.

Inverted:

Harmful, fate, wrong use of force, weakness, blindness, disorder. Malefic effects. The pathetic human condition of choosing illusion over truth.
keyboard_backspaceView All Tarot Decks
Click on each card to see it in detail
keyboard_backspaceView All Tarot Decks
arrow_forwardLearn Tarot
Learn the meaning of Tarot cards with this fun game, guess based on its description to which Arcanum corresponds. Read the description of the Arcanum of the Tarot that we show you below and based on what it suggests, its meaning, select from the four cards that we show you, which is the correct one.
Other free psychic readings
Daily Tarot Horoscope
The Today`s Tarot will give you an idea of what your day might look like today. If you don`t like what it has to say, maybe changing your mindset to something more positive or ...
Celtic Cross Tarot
The Celtic Cross Tarot reading is probably the oldest and most popular pattern for tarot reading. It has survived so long, because the layout of the cards is simple but powerful. A strong energy has built up around ...
Crossroads Tarot Spread
The Crossroads Tarot reading is generally used when the consultation is about an issue with two different ways to select when we are really ...
Tarot Past, Present and Future
The analysis of any subject, when time plays an important role, can be carried out through this specific tarot reading.