Gilded Tarot 18
'Gilded Tarot', is a simple but exciting Tarot, created by Ciro Marchetti, with deep and intense colors, almost metallic, each card will have you looking at the images on several occasions.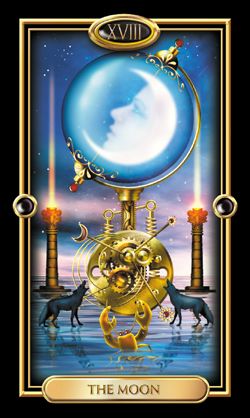 arrow_back_iosPrevious
arrow_forward_iosNext
[XVIII] The Moon Intuition, threshold of an important change, arduous and obscure path, development of psychic powers.

Inverted:

Unforeseen perils, secret foes, hallucination, self-deception, hysteria, disorientation. Blackmailer.
keyboard_backspaceView All Tarot Decks
Click on each card to see it in detail
keyboard_backspaceView All Tarot Decks
arrow_forwardLearn Tarot
Learn the meaning of Tarot cards with this fun game, guess based on its description to which Arcanum corresponds. Read the description of the Arcanum of the Tarot that we show you below and based on what it suggests, its meaning, select from the four cards that we show you, which is the correct one.
Other free psychic readings
Learn Tarot
Select which Tarot card the following description corresponds to
Love Tarot
Love Tarot reading will help you find true love. You will be able to analyze in a better way any problems you face with your partner.
Ask the Tarot
Think and write what concerns you. Ask open-ended questions. The Tarot will give you a response so that we can make appropriate decisions and solve problems
Tarot Card Meanings
earn the basic meanings of Tarot reading through explanations of the Major Arcane, Minor Arcane and Court cards in Thirteen`s Tarot Card Meanings.