Gilded Tarot
'Gilded Tarot', is a simple but exciting Tarot, created by Ciro Marchetti, with deep and intense colors, almost metallic, each card will have you looking at the images on several occasions.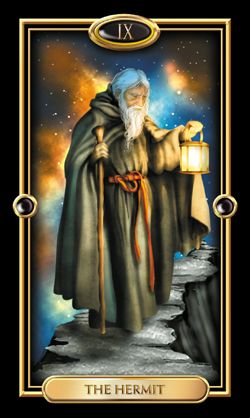 arrow_back_iosPrevious
arrow_forward_iosNext
[IX] The Hermit/The Pilgrim Prudence, wisdom, patience, silence, spiritual advance, divine inspiration, circumspection, retirement from participation in current events, solitude. Pilgrimage. Quest for wisdom. Could be a teacher. A period of spiritual and intellectual personal development.

Inverted:

Immaturity, viciousness, darkness, stubbornness, deception, betrayal, too much or insufficient prudence. Misanthrope, misogyny, celibacy, excessively shy person. Hidden enemies.
keyboard_backspaceView All Tarot Decks