Gilded Tarot
'Gilded Tarot', is a simple but exciting Tarot, created by Ciro Marchetti, with deep and intense colors, almost metallic, each card will have you looking at the images on several occasions.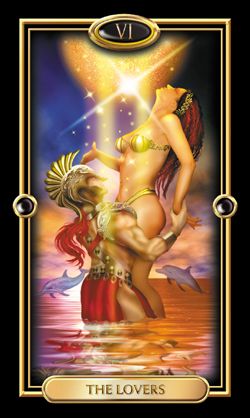 arrow_back_iosPrevious
arrow_forward_iosNext
[VI] The Lovers Union, decision, choice, marriage, love, the union of opposites, attraction. Balance, openness to inspiration. Harmony of the inner and outer aspect of life.

Inverted:

Disorder, failure, danger of a broken relationship or a wrong choice, quarrels, infidelity. Emotional instability. Dangerous temptation.
keyboard_backspaceView All Tarot Decks
Click on each card to see it in detail
keyboard_backspaceView All Tarot Decks
arrow_forwardLearn Tarot
Learn the meaning of Tarot cards with this fun game, guess based on its description to which Arcanum corresponds. Read the description of the Arcanum of the Tarot that we show you below and based on what it suggests, its meaning, select from the four cards that we show you, which is the correct one.
Other free psychic readings
Crossroads Tarot Spread
The Crossroads Tarot reading is generally used when the consultation is about an issue with two different ways to select when we are really ...
Ask the Tarot
Think and write what concerns you. Ask open-ended questions. The Tarot will give you a response so that we can make appropriate decisions and solve problems
Tarot in Favor and Against
Tarot reading in favor and against shows the two different ways that a given situation has and which aspects are in favor and which ones are against
Hidden Truth Tarot
We all have or have had inside us unresolved feelings even though sometimes we are not aware of them. Inconveniences, difficulties and complications ...