Tarot Fenestra
Spectacular Tarot, perfectly designed with a very elaborate border and with beautiful illustrations. In this work the elements of mythology are detailed art deco and also symbolize Japanese art.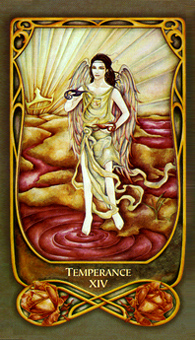 arrow_back_iosPrevious
arrow_forward_iosNext
[XIV] Art/Temperance Careful consideration, patience, moderation, adaptation, tempering, self-control. To temper, to combine, to exercise self-restraint. Patience, bringing together two opposites carefully blending them. Good marriage. Working in harmony with others, good management. Something is brewing. Great talent and creative involvement. Striving for Transcendence through works. Alchemy. The union of opposites refined by the fire of the Will.

Inverted:

Disorder, conflict, unfortunate combinations, quarrels. Possibility of shipwreck.
keyboard_backspaceView All Tarot Decks
Click on each card to see it in detail
keyboard_backspaceView All Tarot Decks
arrow_forwardLearn Tarot
Learn the meaning of Tarot cards with this fun game, guess based on its description to which Arcanum corresponds. Read the description of the Arcanum of the Tarot that we show you below and based on what it suggests, its meaning, select from the four cards that we show you, which is the correct one.
You May Also Like
Tarot Card Meanings
earn the basic meanings of Tarot reading through explanations of the Major Arcane, Minor Arcane and Court cards in Thirteen`s Tarot Card Meanings.
Crossroads Tarot Spread
The Crossroads Tarot reading is generally used when the consultation is about an issue with two different ways to select when we are really ...
Yes or No Tarot
Free one card Tarot reading Yes or No, Tarot reading YES or NO is a spread that answers concrete and precise questions. The YES or NO Tarot reading, can easily remove your doubts...
Ask the Tarot
Think and write what concerns you. Ask open-ended questions. The Tarot will give you a response so that we can make appropriate decisions and solve problems