Tarot Fenestra
Spectacular Tarot, perfectly designed with a very elaborate border and with beautiful illustrations. In this work the elements of mythology are detailed art deco and also symbolize Japanese art.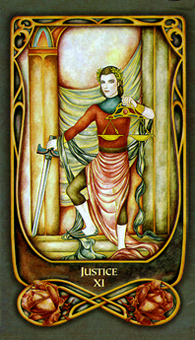 arrow_back_iosPrevious
arrow_forward_iosNext
[XI] Lust/Strength Sublimation or regulation of the passions and lower instincts. Power, energy, great love. Spirit ruling over matter. Action, courage. Success. Powerful will and great physical strength. The inner strength to tame the lust.

Inverted:

Discord, ruin, stubbornness, abuse of power. Weakness.
keyboard_backspaceView All Tarot Decks
Click on each card to see it in detail
keyboard_backspaceView All Tarot Decks
arrow_forwardLearn Tarot
Learn the meaning of Tarot cards with this fun game, guess based on its description to which Arcanum corresponds. Read the description of the Arcanum of the Tarot that we show you below and based on what it suggests, its meaning, select from the four cards that we show you, which is the correct one.
You May Also Like
Astrology Chart
Astrology studies the position and movement of stars. Thanks to their understanding and surveillance, we can establish a relationship between what happens in the sky
Tarot Card Meanings
earn the basic meanings of Tarot reading through explanations of the Major Arcane, Minor Arcane and Court cards in Thirteen`s Tarot Card Meanings.
Daily Tarot Horoscope
The Today`s Tarot will give you an idea of what your day might look like today. If you don`t like what it has to say, maybe changing your mindset to something more positive or ...