Tarot Connolly
The Connolly Tarot is a set of 78 pretty vibrant and vivid cards. They have kinder and gentler tarot images with Christian influence. The author has also toned down two scary cards in the deck: Death is now Transition and the Devil is Materialism.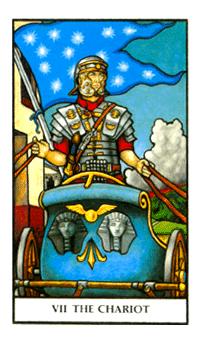 arrow_back_iosPrevious
arrow_forward_iosNext
[VII] The chariot Triumph of the will, to surmount opposition, success. Self-control, ability to determinate the own destiny. Good news. Great physical and mental strength. Swiftness. The transitory power. Travel.

Inverted:

Generalized disorder. Illness. Dangerous restlessness. Danger of a violent accidente.
keyboard_backspaceView All Tarot Decks
Click on each card to see it in detail
keyboard_backspaceView All Tarot Decks
arrow_forwardLearn Tarot
Learn the meaning of Tarot cards with this fun game, guess based on its description to which Arcanum corresponds. Read the description of the Arcanum of the Tarot that we show you below and based on what it suggests, its meaning, select from the four cards that we show you, which is the correct one.
You May Also Like
Crossroads Tarot Spread
The Crossroads Tarot reading is generally used when the consultation is about an issue with two different ways to select when we are really ...
Tarot Past, Present and Future
The analysis of any subject, when time plays an important role, can be carried out through this specific tarot reading.
Ask the Tarot
Think and write what concerns you. Ask open-ended questions. The Tarot will give you a response so that we can make appropriate decisions and solve problems