Tarot Connolly
The Connolly Tarot is a set of 78 pretty vibrant and vivid cards. They have kinder and gentler tarot images with Christian influence. The author has also toned down two scary cards in the deck: Death is now Transition and the Devil is Materialism.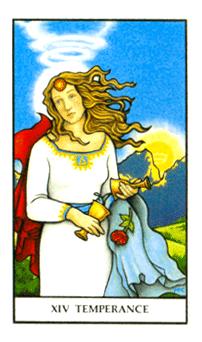 arrow_back_iosPrevious
arrow_forward_iosNext
[XIV] Art/Temperance Careful consideration, patience, moderation, adaptation, tempering, self-control. To temper, to combine, to exercise self-restraint. Patience, bringing together two opposites carefully blending them. Good marriage. Working in harmony with others, good management. Something is brewing. Great talent and creative involvement. Striving for Transcendence through works. Alchemy. The union of opposites refined by the fire of the Will.

Inverted:

Disorder, conflict, unfortunate combinations, quarrels. Possibility of shipwreck.
keyboard_backspaceView All Tarot Decks
Click on each card to see it in detail
keyboard_backspaceView All Tarot Decks
arrow_forwardLearn Tarot
Learn the meaning of Tarot cards with this fun game, guess based on its description to which Arcanum corresponds. Read the description of the Arcanum of the Tarot that we show you below and based on what it suggests, its meaning, select from the four cards that we show you, which is the correct one.
You May Also Like
Love Tarot
Love Tarot reading will help you find true love. You will be able to analyze in a better way any problems you face with your partner.
Astrology Chart
Astrology studies the position and movement of stars. Thanks to their understanding and surveillance, we can establish a relationship between what happens in the sky
Hidden Truth Tarot
We all have or have had inside us unresolved feelings even though sometimes we are not aware of them. Inconveniences, difficulties and complications ...