Egyptian Tarot
The Egyptian tarot is one of the oldest in existence, in fact, it is said that the reading of the Egyptian tarot became a way of understanding the occult and the art of divination. The Egyptian tarot is said to be more realistic than the other types of tarot, so much so that it feels like the card image jumps out of you, making it easy for readers to read and interpret.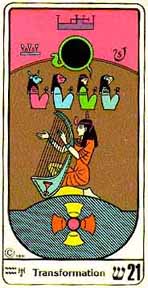 arrow_back_iosPrevious
arrow_forward_iosNext
[XXI] The Universe Success granted. Rewards. Travel, emigration, change of residence.

Inverted:

Hindrances, stagnation. Hard work to bring success.
keyboard_backspaceView All Tarot Decks
Click on each card to see it in detail
keyboard_backspaceView All Tarot Decks
arrow_forwardLearn Tarot
Learn the meaning of Tarot cards with this fun game, guess based on its description to which Arcanum corresponds. Read the description of the Arcanum of the Tarot that we show you below and based on what it suggests, its meaning, select from the four cards that we show you, which is the correct one.
You May Also Like
Celtic Cross Tarot
The Celtic Cross Tarot reading is probably the oldest and most popular pattern for tarot reading. It has survived so long, because the layout of the cards is simple but powerful. A strong energy has built up around ...
Ask the Tarot
Think and write what concerns you. Ask open-ended questions. The Tarot will give you a response so that we can make appropriate decisions and solve problems
Learn Tarot
Select which Tarot card the following description corresponds to