Egyptian Tarot
The Egyptian tarot is one of the oldest in existence, in fact, it is said that the reading of the Egyptian tarot became a way of understanding the occult and the art of divination. The Egyptian tarot is said to be more realistic than the other types of tarot, so much so that it feels like the card image jumps out of you, making it easy for readers to read and interpret.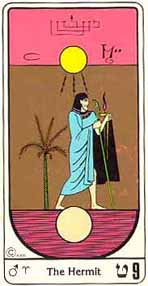 arrow_back_iosPrevious
arrow_forward_iosNext
[IX] The Hermit/The Pilgrim Prudence, wisdom, patience, silence, spiritual advance, divine inspiration, circumspection, retirement from participation in current events, solitude. Pilgrimage. Quest for wisdom. Could be a teacher. A period of spiritual and intellectual personal development.

Inverted:

Immaturity, viciousness, darkness, stubbornness, deception, betrayal, too much or insufficient prudence. Misanthrope, misogyny, celibacy, excessively shy person. Hidden enemies.
keyboard_backspaceView All Tarot Decks