The Light Seer's Tarot
This 78-card tarot deck is a healing tool and guide to explore both the light and shadow sides of our nature. By reimagining the traditional tarot archetypes and symbols in a contemporary, boho, and intuitive style, The Light Seer's Tarot expresses the light and shadow sides of our natures and explores the lessons that can be learned from both.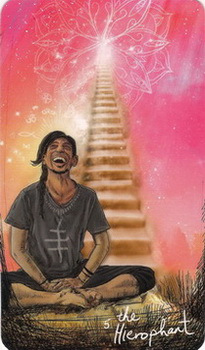 arrow_back_iosPrevious
arrow_forward_iosNext
The expressive characters who live within the landscapes of the cards tell stories, ask questions, and provide guidance. This deck is an ideal companion as you seek to uncover the places in your life-and in yourself-that are most in need of illumination.
keyboard_backspaceView All Tarot Decks
Click on each card to see it in detail
keyboard_backspaceView All Tarot Decks
arrow_forwardLearn Tarot
Learn the meaning of Tarot cards with this fun game, guess based on its description to which Arcanum corresponds. Read the description of the Arcanum of the Tarot that we show you below and based on what it suggests, its meaning, select from the four cards that we show you, which is the correct one.
You May Also Like
Love Tarot
Love Tarot reading will help you find true love. You will be able to analyze in a better way any problems you face with your partner.
Celtic Cross Tarot
The Celtic Cross Tarot reading is probably the oldest and most popular pattern for tarot reading. It has survived so long, because the layout of the cards is simple but powerful. A strong energy has built up around ...
Crossroads Tarot Spread
The Crossroads Tarot reading is generally used when the consultation is about an issue with two different ways to select when we are really ...
Tarot Past, Present and Future
The analysis of any subject, when time plays an important role, can be carried out through this specific tarot reading.