Ibis Tarot
Ibis Tarot presents Egyptian figures, symbols and hieroglyphs with beautiful landscapes, and is based on the designs published in the book Practical Astrology by Comte C. de Saint-Germain.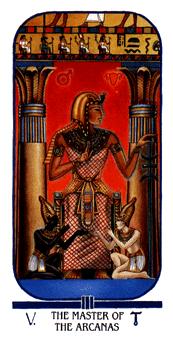 arrow_back_iosPrevious
arrow_forward_iosNext
[V] The Hierophant Wisdom, endurance, persistence, patience, help from superiors, good advice, a good teacher, organization, peace, goodness of heart. The card that represents you, in the form of your own, truest voice, your own inner-self. Dogma. Can be lawyers.

Inverted:

Tendency to over criticize or being unduly concerned with the morals of others. Incapable of dealing efficiently with practical matters, especially finances. Unconventionality, illogical, superstitious, unable to behave coherently.
keyboard_backspaceView All Tarot Decks
Click on each card to see it in detail
keyboard_backspaceView All Tarot Decks
arrow_forwardLearn Tarot
Learn the meaning of Tarot cards with this fun game, guess based on its description to which Arcanum corresponds. Read the description of the Arcanum of the Tarot that we show you below and based on what it suggests, its meaning, select from the four cards that we show you, which is the correct one.
You May Also Like
Astrology Chart
Astrology studies the position and movement of stars. Thanks to their understanding and surveillance, we can establish a relationship between what happens in the sky
Love Tarot
Love Tarot reading will help you find true love. You will be able to analyze in a better way any problems you face with your partner.
Crossroads Tarot Spread
The Crossroads Tarot reading is generally used when the consultation is about an issue with two different ways to select when we are really ...
Yes or No Tarot
Free one card Tarot reading Yes or No, Tarot reading YES or NO is a spread that answers concrete and precise questions. The YES or NO Tarot reading, can easily remove your doubts...